Hello human!
My last post is from 25 May and that means it is time for more information and a status update! Much has changed since then and people want to know if I'm really going!
Is everything ready?
Almost two months ago I got my answer: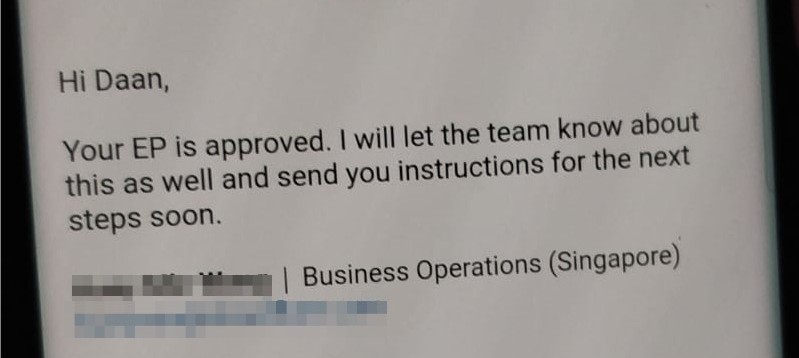 If you have trouble understanding what this means, the final piece of my transition has been approved. I am really going to Singapore 🤩! After this the planning started, I got my flights booked, sent viewing requests for houses and as my lovely boyfriend is waiting for me in Singapore he helped me with the viewing over Skype!
Good for you! Now, where's the food?!
Alright, I keep promising to talk about the food in Singapore. In general if you like any Asian food you're in for a good time but other kitchens are represented very well too.
If you like a good hotpot you can go to Hai Di Lao which is very nice, mainly if you like spicy food! If you're more into dim sum you should definlity try Din Tai Fung which is available all over Singapore. If you want to try the famous Chili crab I can recommend Melben Seafood, It can be busy at night but It's worth the wait! A real national dish is called chicken rice which is available literally everywhere in Singapore, from restaurants to hawker stalls
Hawker centres
This might be new to you too! Coming from Europe I'm not used to the American style foodcourts or the asian hawker centers but I can promise you you're going to love this one.
Hawker centres are a collection of food stalls mainly situated near housing areas but can be part of (small)malls too. The way this differs from street hawkers is that they're all situated under one roof with places to sit and get drinks. You can also find hawker stalls in big commercial buildings, decent food for a decent price. So what type of food can you get at those stalls I hear you ask? Everything that's from Asia!
Mainly dishes that can be prepared quickly and are decent in size for a lunch or dinner. Beside chicken rice there's another dish that everyone knows: economy rice. And I know this is a weird English name, locals would refer to it as "Cai Fan" or "Cai Png". It's rice with a selection of vegtables and meat/fish which you can select by pointing at it. Online you would find a lot of people discussing where you can find the best and cheapest cai png is, saying stuff like "Can get 2 veg 1 meat for S$5 at <location>". On YouTube you can find videos on do's and don't when ordering Cai Png:
There are many other cuisines to be found in hawker centers, Indian, Indonesian and of course Japanese foods are popular too. So, If you're ever visit Singapore, make sure you fill yourself up with the good stuff!
What's next
Currently I'm finishing up here in London and go back to the Netherlands for a week, after that I'll be flying to Singapore and stay in a temporary apartment till I found a place on my own and you should do this too.
The first things to do when you arrive in Singapore is go to an EPSC to get your EP registrered and issued. Next your should directly go to a bank and open a new account, a minumum deposit of S$500 or S$1000 can be required so make sure you have enough cash on hand. And to stay in contact with everyone you should get a phonenumber. So far I've always had good experience with Singtel.
My next blog will be from Singapore for more inside information, see ya!